Subway Vouchers, Deals & Coupons → November 2021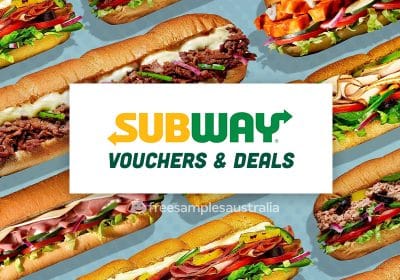 Are you a big fan of Subway? You can't resist the Oven-roasted chicken sandwich and the grilled wraps, but at the same time, you have a very tight budget? We have the solution for you! Subway vouchers are a great way to save on your Subway meals and combos.
The current page is fully dedicated to Subway vouchers. If you are a legal resident of Australia, you are invited to regularly check this page to stay updated with the latest vouchers and coupons of Subway.
Subway Weekly App Deals – September 13 to December 5
| DEAL | Validation Period |
| --- | --- |
| Any 2 600ml Drinks for $5 | Oct. 25th - Oct. 31st |
| Free 600ml Drink with Any Purchase | Nov. 1st - Nov. 7th |
| Buy One Get One Free Six Inch Sub | Nov. 8th - Nov. 14th |
| $3 off Any Subway Footlong | Nov. 15th - Nov. 21th |
| Free Subway Snack with Any Purchase | Nov. 22nd - Nov. 28th |
| Any Footlong for $8.50 | Nov. 29th - Dec. 5th |
Current Subway Vouchers for November 2021

Free Snack with any purchase – Subway App
From now until the 28th of November 2021, you can get a free snack with any purchase via the Subway App. You can choose among the following: Ham Cheese & Tomato Jaffle, Meatball Mozza Pot or Chipotle Quesadilla.
FREE Delivery with $25 Spend on Menulog
Subway is offering you a FREE delivery when you order at least $25 via Menulog. To benefit from this Subway Voucher, you are invited to access the Menulog website or Mobile Application and then go to a participating Subway store. Delivery would have normally costed from $1.99 to $5. Please note that this offer is only valid for a limited time in selected participating Subway stores.
Free Six Inch Sub & 390ml Coke – New App Users
Are you a new member of Subway's mobile application? If so, we are happy to say that you can enjoy a free six-inch sub in addition to a 390ml Coke. To get the deal, you simply need to upload Subway's mobile application and join Subcard, which will allow you to gain reward dollars on every purchase you make.
$1 Cookie Offer
For a limited period of time, you can enjoy a cookie for $1 only! Priced normally between $1.2 and $1.4, this offer will allow you to get one of the best cookies in town for a more attractive price.
You will be able to choose among the following:
Positives
Chocolate Chip Cookie
Raspberry Cheesecake Cookie
Chocolate Chip Rainbow Cookie
White Chip Macadamia Nut Cookie
Double Chocolate Chip Cookie
Choc Espresso Cookie
 $5 Everyday Value Range Subway Vouchers
Are you a big fan of Subway sandwiches? If so, we are happy to say that you will be able to enjoy one of the selected subs for only $5 in the context of their Everyday Value Range. If you are planning to take advantage of this offer, you will be able to choose from the following 6-inch subs:
Positives
BLT
Subway Seafood Sensation
Pizza Melt with Cheese
Veggie Delite with Avo
Tuna with Mayo
Other Subway Vouchers
Positives
$10 Meal for One Delivered for DoorDash DashPass Members
Free 600ml Drink with Any Purchase via App (until 7 November)
Free Delivery with $25 Minimum Spend via Menulog
Six-Inch Everyday Value Range for $5 only OR Footlong for $8.50 only
Brekky + Six Inch Breakfast Sub, Cookie & Juice/Coffee for only $7.95
2 Cookies in addition to Flavoured Milk for only $5
6 Cookies for only $5
Sub of the day for only $4.5
Panini & daily juice for only $9.95
Subway Vouchers in Mobile App
We strongly recommend you download Subway Mobile Application to have access to a number of rewards and advantages, including:
Positives
Get reward dollars when you scan your QR Code
Subcard credit load up to pay at the restaurant when you are lacking cash
Preordering via the app before getting to the restaurant
Getting special deals and promotions
Balance information check
Download on Apple Store Download on Google Play
More Food Vouchers You'll Love
7 new freebies in your inbox every day!
Join our 78,457 freebie subscribers
Free Samples Australia
Get the Latest Freebies in your Instagram Feed
Like those Vouchers & Deals?