Latest Oporto Deals for March 2023
Oporto Deals for March 2023
Positives
FREE 600ml Soft Drink or Chocolate Mousse with $35 Spend via Menulog
Bondi Meal Deal for $9.95
Chicken and Burger Box for $17.95
Chilli Cheese Chips for $4.95
Snacks Tasting Box for $13.95
$4.95 Snack Cups available from 3-5 pm
$24.95 Chicken Meal Deal (Whole Chicken + 2 Sides)
$54.95 Double Oporto Chicken Feed
$12.95 Pulled Chicken Rappsnacker Deal

$69.95 Oh-Porto Feast
$4.95 Snack Cups available from 3-5 pm
$8 Pulled Chicken Rappsnacker Meal
Oporto Chicken Mealboxes from $11
$9.95 Pita Pocket Deal (2 Pita Pockets, Chips & Drink)
$13.95 Snacks Tasting Box
$15.50 Chicken Rappa Strip Box
$8.95 Oprego Rappa (Secret Menu Item)
$24.95 Whole oporto Chicken Feed
5 Crispy Oporto Chicken Strips for $5
Oporto Flame Rewards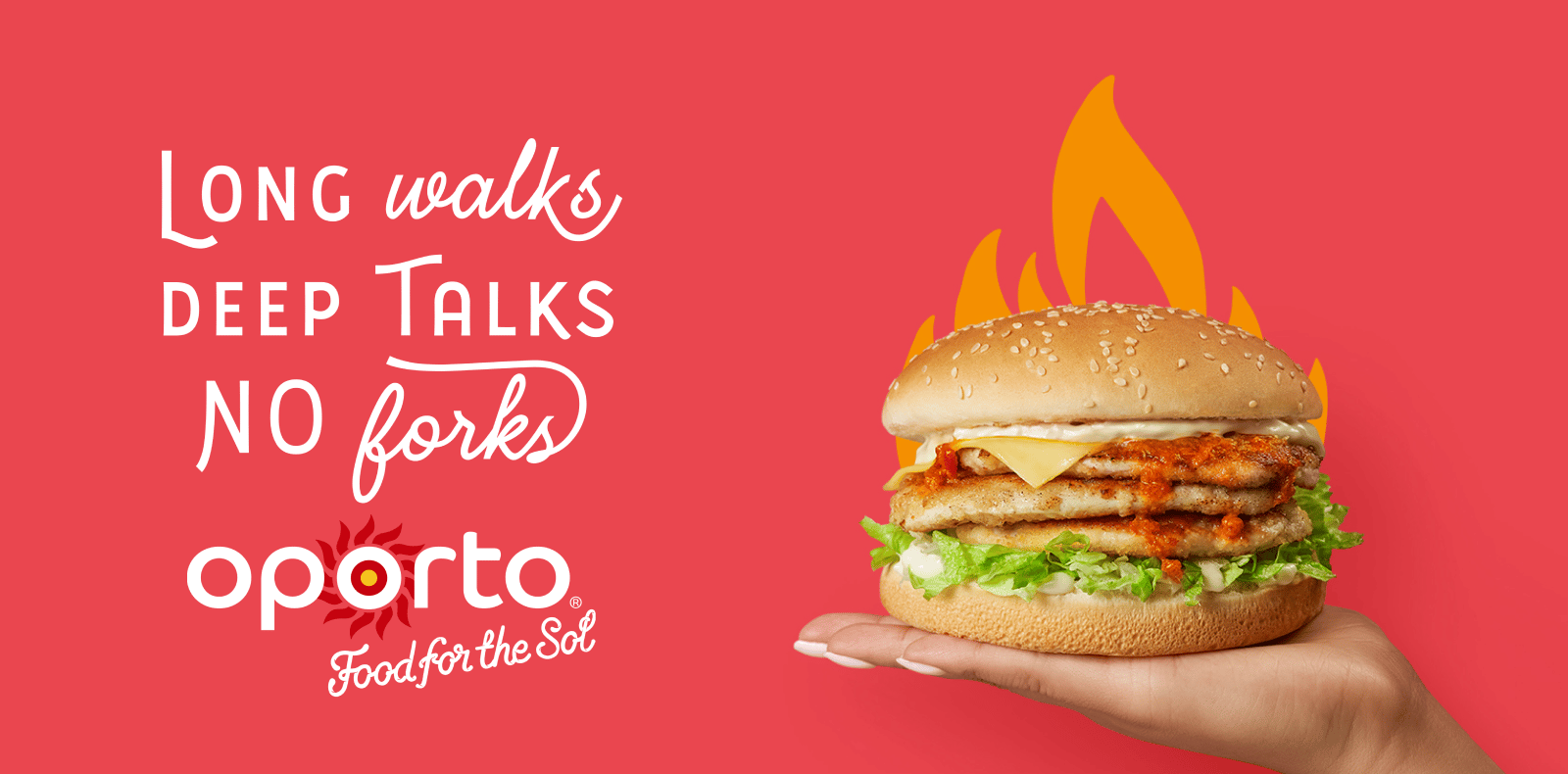 Did you know that every dollar spent on Oporto can help you save off your future orders? Oporto has introduced its Flame Rewards program, which is a loyalty program that recompensates loyal customers for their loyalty through exclusive treats, gifts, and discounts. Very useful from a savings perspective, Oporto's flame rewards program features the following:
Positives
$5 Free Voucher (to be used for order of $10+) when you join Oporto's family (expired after 30 days)
Free food as you collect Flame rewards point/dollars (1 Loyalty dollar = $1)
Exclusive access to special offers and promotions 
Special treats and gifts on your birthday 
NB: Please note that the Oporto Flames Rewards program is not available in the following locations: South Australia, Cairns Airport, Gregory Hills, Entertainment Quarter, Football Stadiums or Oporto stores outside of Australia. More, Oporto's loyalty program is only valid in-store and cannot be considered for third-party entities like UberEats, Doordash, Deliveroo, and Menulog.
How can I get started with Oporto Flame Rewards?
Positives
Sign up to the Flame Rewards program ( online or in-store)
Get your welcome reward 
Complete your profile online to receive a birthday treat
Check your inbox regularly for special oporto deals and offers
Present your Flame Rewards App upon visits to Oporto to collect points 
We recommend you also download Oporto's mobile application to make rewards dollars earning even easier!
Oporto Membership Levels
| | Orange Status | Silver Status | Gold Status | Platinum Status |
| --- | --- | --- | --- | --- |
| Visits/year | 0-6 | 7-12 | 13-24 | +25 |
| Flame Rewards Dollars | $1 for every $20 spent | $1 for every $17 spent | $1 for every $15 spent | $1 for every $12 spent |
| Birthday Treat | 10% Discount | 15% Discount | Free Meal | $20 Flame Rewards |
| Tier Entery Reward | $5 Welcome Voucher | N/A | N/A | $20 Flame Rewards dollars |
| Suprise gifts/events | NO | NO | NO | YES |
About Oporto Deals
Do you love eating at Oporto? Are you craving for their Portuguese-style burgers and flame-grilled oporto chicken? If so, you are in the right place! This page will be fully dedicated to Oporto deals, vouchers, and promotions.
Offering both Oporto Delivery, takeaway, and pickup options, the brand wants to help you make economies by presenting you with a number of coupons and discounts. If you want to save on your next Oporto order, make sure to scroll down this page to spot the best and latest Oporto Deals and coupons. You will thank us later!
About Oporto Australia
Considered as one of the most popular fast-food restaurant chains in Australia, Oporto is the number one specialist in Portuguese burgers and flame-grilled chicken. For those of you who don't know it, Oporto is part of the Craveable Brands family, which also owns Red Rooster and Chicken Treat brands.
Food and friendship, being the core of this brand's philosophy, Oporto believes that it's the simplest things in life that make all the difference!
Oporto is known for its flame-grilled fresh chicken that is RSPCA approved and most importantly 100% Australian. Words like fried or frozen chicken do not belong to this restaurant's vocabulary!
Don't hesitate to check the Oporto menu, you also have access to Oporto prices. If you are also looking for a nearby restaurant, don't hesitate to type 'Oporto near me' on the search bar or search Oporto locations to find your closest store directly from Oporto's website.
7 new freebies in your inbox every day!
Join our 78,457 freebie subscribers