Dominos Vouchers & Deals → September 2021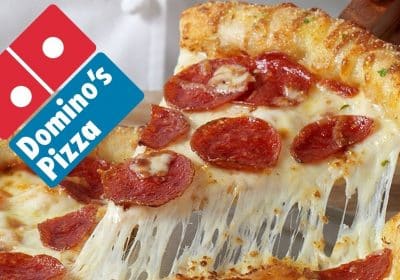 Dominos Voucher Codes → September 2021
Get the latest Dominos Vouchers & Coupon Codes – including $5 Value Pizzas, $7.95 Traditional Pizzas, 2 sides for $7.95 and the latest pickup and delivery deals!
Code
Voucher description
Expiration
153698

3 Large Traditional Pizzas, Garlic Bread, 1.25L Drink for $26.95 Pickup
10/24/2021
621476

4 Large Traditional Pizzas + 4 Sides $38.95 Pickup
10/13/2021
525934

2 For 1 Tuesdays - Buy One Traditional or Premium Get One Traditional or Value Free - Pickup or Delivered
10/24/2021
808891

Premium Pizzas at Selected stores only at $6
03/02/2024
680984

2 Sides for $7.95
10/13/2021
220153
3 Large Traditional Pizzas for $22.95 - Pickup at Selected stores
10/04/2021
509440

2 Traditional Pizzas + 1 Side for only $19 - Pickup
11/15/2021
631450
191541

Traditional Pizza for $7.95 or Premium Pizza for $10.90 - Pickup
10/04/2021
852176

4 Large Traditional Pizzas + 4 Sides $44.95 Delivered
04/10/2021
866036

3 Large Traditional Pizzas $29.95 Delivered
10/13/2021
788679
3 Sides for only $9.95
10/13/2021
621476
4 Large Traditional Pizzas + 4 Sides $38.95 Pickup
10/13/2021
257910

2 Sides for $6 (VIC/TAS)
10/03/2021
893063

$15 Any Large Pizza - Delivered with no Minimum Spend
10/04/2021
351531

$3 Mini Pizza
10/04/2021
684634

2 For 1 Tuesdays - Buy One Traditional or Premium Get One Traditional or Value Free (participating stores) - Pickup or Delivered
10/10/2021
927969

3 Large Traditional/Vegetarian Plant Based for $27 Delivered
10/03/2021
257910

2 Sides for $6 - Only for VIC/TAS
10/03/2021
531819

Extra Large Value Pizza for $7
10/13/2021
Dominos Vouchers & Deals → September 2021 for Pizza Only
| Code | Voucher description | Expiration |
| --- | --- | --- |
| 631450 | Traditional Pizzas for $7.95 / Premium Pizzas for $10.90 - Pickup | 10/04/2021 |
| 351531 | $3 Mini Pizza | 10/04/2021 |
| 531819 | Extra Large Value Pizza for $7 | 10/13/2021 |
| 631450 | Traditional Pizzas for $7.95/Premium Pizzas for $10.90 | 10/04/2021 |
| 797048 | Traditional Pizzas for $7.95 | 10/10/2021 |
| 808891 | $6 Premium Pizzas at Selected Stores | 03/02/2021 |
| 778984 | 2 Mini Value Pizzas for $6 | 10/13/2021 |
| 808891 | $6 Premium Pizzas at Selected Stores | 03/02/2024 |
Other Dominos Vouchers
Extra Large Pizzas – 50% More Pizza for $3 Extra
$5 Cheaper Everyday Menu
$5 Back on All Value Range Pizzas & Sides 
Lunch Side Options – Garlic Bread, drink, or Sundae for $2 & Cheesy Garlic bread/chips for only $3.50.
$3 Mini Value Pizzas, $5 Large Value Pizzas & $7 Extra Large Value Range Pizzas
About Dominos Vouchers and Voucher Codes

Domino's vouchers consist of a code that is composed of a set of numbers and which can be used while making your order on Domino's Pizza. Once entered, the discount appears automatically on your total order bill.
All of these vouchers are of a single-use and can be redeemed in any Domino's Pizza store. Please note that these vouchers can not be redeemed for cash. As for the e-vouchers, they can only be used for online orders and cannot be accepted in Domino's Pizza stores nor can it be valid for phone orders.
Products can be considered for Dominos Vouchers
Talking about Dominos vouchers, there is a large variety of products to which these codes can apply, including the different pizza ranges. These vouchers can be used to lower the prices of pizzas or to score some cheaper meals.
What should be kept in mind is that vouchers differ moving from one location to another. So, make sure to check what vouchers and deals are available out there for your nearest Dominos restaurant.
How do I use Dominos Vouchers?
To use Dominos vouchers and make great economies, you are invited to follow the steps below:
Positives
Log in to your Dominos account or create one in case you don't have it yet
Complete the form with your home address (for delivery) and a valid phone number
Choose an item from the Dominos menu
Enter your Dominos voucher code in the right field
Click on "Apply" and resume your order as your Dominos vouchers gets entered
What If my Dominos Vouchers don't work?
If you are having any issues with your Dominos vouchers, these may be one of the reasons:
Negatives
You are not connected to your Dominos account or you don't yet have one (which is mandatory to use Dominos vouchers)
The code has already been used once and cannot be used twice (only one person has the right to use a voucher)
The given Dominos voucher is not valid in your specific Dominos restaurant or location (Dominos vouchers vary from one location to another)
You haven't satisfied the voucher's terms and conditions in terms of minimum spend
The entered voucher code is incorrect. Try copying it directly from here to avoid typing errors
VIP Club Membership
Joining Dominos VIP Club gives you access to a number of deals, offers, and promotions. To become a member of the club, you only need to tick the box that is reserved for VIP club membership while making your online order on Domino's Pizza's internet ordering system.
On the other hand, you can join simply by providing your valid information in one of the stores' points of sale or simply by signing up online on Dominos official website.
Once you join the community, you will regularly receive emails featuring Dominos competitions, Dominos news, Dominos promotions, Dominos vouchers, and so on… Please note that you can, at any time, opt-out from receiving messages and emails from the Dominos VIP club.
Download Dominos Mobile Application & Receive a FREE PIZZA
Dominos is encouraging its customers to download and use its mobile application by offering them a lovely deal! By downloading the Dominos mobile app, you get to receive a voucher for a FREE LARGE PIZZA with delivery orders.
The freebie coupon will be sent to the user via a phone message and will only be valid for a maximum period of one month. Please note that this offer is only valid for delivery orders with a minimum spend of AU $22. Vouchers are of single-use and are addressed solely to new Mobile App users.
Dominos Car Park Delivery
To improve the customer experience, Dominos introduced the Dominos Car Park Delivery concept, which consists of picking up your order at one of their stores without having to leave the car. Thinking about the car park delivery, here are how things work out:
Positives
Place an order online by selecting the 'Bring My Order to My Car' option at checkout
Park your car in one of their stores' car parking
Click on the "I'm Here" button and give some information regarding your car
Once they recognize your card, a team member will place your order either on the passenger seat or int he boot (depending on what you want)
More Dominos Vouchers and Deals
Dominos Pizza Menu & Prices
Premium Pizzas
Chicken Bacon & Avocado $16.90
Loaded Supreme $16.90
Four Cheese Deluxe $16.90
Creamy Chicken Carbonara $16.90
BBQ Chicken & Rasher Bacon $16.90
Cheesy Chicken, Bacon & Chorizo $16.90
Mega Meatlovers $16.90
Chicken & Camembert $16.90
Peri Peri Chicken $16.90
Garlic Prawn $16.90
Traditional Pizzas
Eight Meats $13.95
Godfather $13.95
Hawaiian $13.95
BBQ Meatlovers $13.95
Avocado Veg $13.95
Fire Breather $13.95
Vegorama $13.95
Supreme $13.95
Double Bacon Cheeseburger $13.95
Value Range Pizzas
Simply Cheese $5.00
Margherita $5.00
BBQ Pork & Onion $5.00
Beef & Onion $5.00
Spicy Veg Trio $5.00
Cheesy Garlic Pizza $5.00
BBQ Italian Sausage $5.00
Pepperoni $5.00
Ham & Cheese $5.00
New York Pizzas
The Big Cheese $17.95
The Big Ham & Pineapple $17.95
The Big Pepperoni, Sausage & Mushroom $17.95
New Yorker Half & Half $20.95
The Big Pepperoni $17.95
The Big Pepperoni & Sausage $17.95
The Big Three Meats $17.95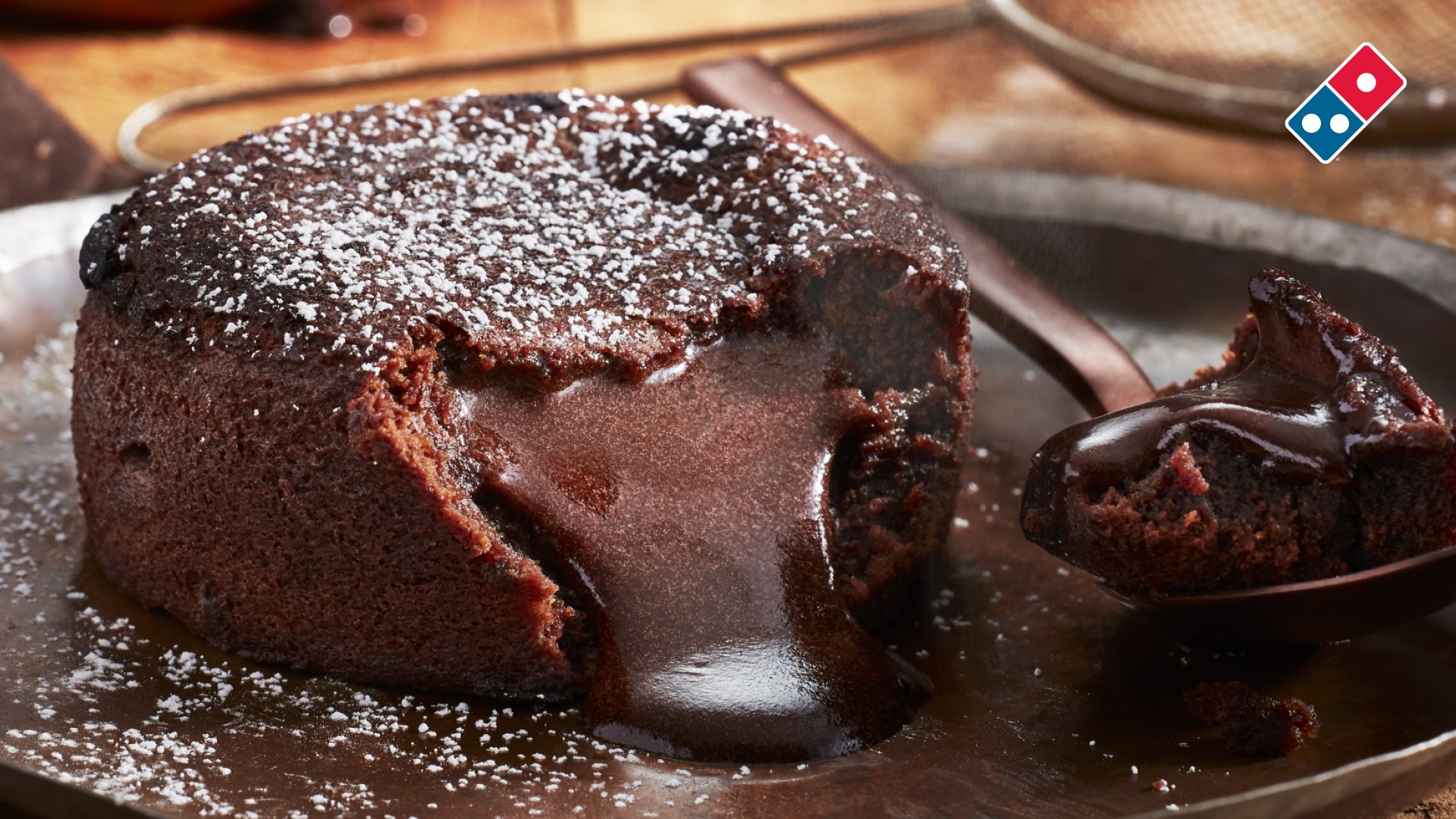 Dominos Sides Options
For sides, you are faced with two options to chose from. You can have two sides only for $7.95 or three sides for $9.95. Here are the sides you are presented with:
1,25L Soda Drinks (Solo, Pepsi Max, Mountain Dew, Pepsi, 7 Up, Sunkist)
Cheese & Garlic Bread – Herbs and garlic flavoured bread with mozzarella sticks on top of it
Garlic Bread
Mini choc Sundae – Vanilla Ice Cream
BBQ Chicken Meatballs
Churros – presented with chocolate sauce
Thickshakes – with three flavour options: vanilla, chocolate, caramel
Dutsch Pancake
Cheese & Garlic scrolls
Salted Caramel Chocolate Mousse
Choc Lava Cake
Dominos Premium Sides
Talking about Domino's premium sides, you will have to choose among the following:
Chicken Kicker Bites
Choc Fudge Brownies
Spicy Batttered Prawns
Chicken 5 Pack – if selected you will be able to select from:

Buttermilk Chicken Kickers
20 Chicken Kicker Bites
Korean Sticky Wings
Chipotle Chicken Kickers
Oven Roasted Chicken Wings
About Domino's Pizza
Domino's Pizza Enterprises, which is the biggest franchisee for Domino's Pizza in the world, is also considered to be the largest Pizza Chain in Australia. The group is responsible for  Domino's brand in Australia, New Zealand, Belgium, France, the Netherlands, Japan, Germany, Luxembourg and Denmark. The pizza chain's objective lies in striving to come up with a healthier and tastier menu to enhance customer satisfaction and meet clients' expectations when it comes to food and service quality.
​
7 new freebies in your inbox every day!
Join our 78,457 freebie subscribers
Free Samples Australia
Get the Latest Freebies in your Instagram Feed
Like those Vouchers & Deals?