I have a confession to make but you probably already noticed it! I have a sweet tooth and i am particularly obsessed with cookies!
So let me tell you that when i found the recipe of this FABULOUS Cookie Dough Dip, my heart just skipped a beat! Plus, i have tried it this weekend for my little boy's birthday party and everybody loved it!
Ingredients:
1/2 cup butter
1/3 cup brown sugar
1 8-ounce block of cream cheese, softened
1/2 cup powdered sugar
1 teaspoon vanilla extract
3/4 cups chocolate chips
Directions:
Start by melting the butter over medium heat. Add the brown sugar and whisk until it dissolves. You can now remove it from the heat and let it cool down. Add in the vanilla extract.
In another bowl, cream together the cream cheese and the powder sugar until it looks smooth.
Using your mixer on low speed, add the butter and brown sugar mix on the cream cheese and let the mixer do its magic.
Mix in the chocolate chip for the final touch! Voila! Your dip is ready! How easy is that, seriously?
You can serve this fabulous dip with fruit, cookies, crackers, pretzels (or a spoon :) )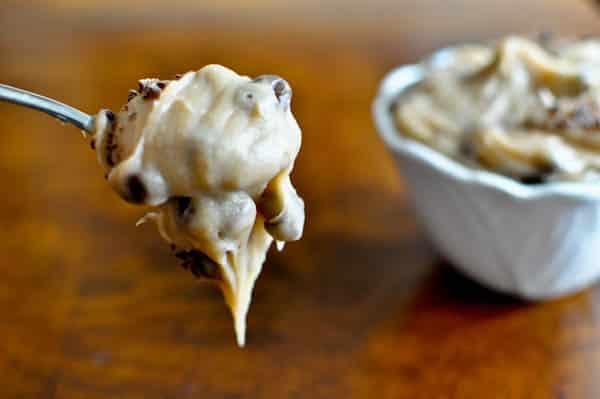 Source: Tastykitchen