Free Samples of Whole Earth NEW sugar replacements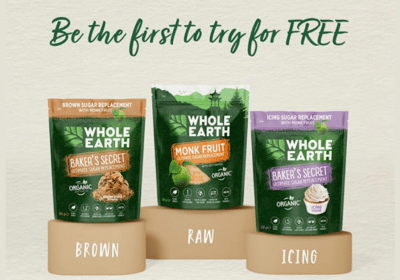 Are you looking for sugar alternatives? If so, here is your chance to try out the ultimate sugar replacement without spending a dime!
Whole Earth AU is organizing a new sampling campaign, giving away free samples to introduce its new sugar replacements to individuals interested in trying them out.
Do you want to be among the first ones to try Whole Earth's delicious NEW sugar replacements? Don't wait a second! Sign up now to get your sample of these low-calorie and organic sugar replacements.
You will be able to choose from raw, icing, or brown sugar! You can either try it on your coffee or use it when you bake your next delicious recipe, it's all up to you!
Free Samples of Whole Earth NEW sugar replacements
Do you want to get your free samples of Whole Earth sugar replacements? Start by heading over to the offer's post on Facebook.
After this, you will need to click on "Sign Up" and fill in the form with your valid coordinates.
We invite you to follow the instructions outlined by the brand to validate your entry to the contest.
Hurry up! The offer is going to be valid for a limited time only!
7 new freebies in your inbox every day!
Join our 78,457 freebie subscribers
Free Samples Australia
Get the Latest Freebies in your Instagram Feed